Top Roping Sires of 2022
What bloodlines dominated roping in 2022? View the previous year's top 10 leading roping sires.
American Quarter Horses dominated across all roping events, including heading, heeling, breakaway and more. The offspring of the top ten sires excelled in judged and timed roping. The list below is based off AQHA points and money earned.
These statistics, powered by the American Quarter Horse Association's QData, were compiled from January 1 to December 31, 2022. The figures represent offspring earnings, number of money earners, average earnings and each sire's leading money earner for 2022.
The leading barrel racing sires of 2022:
10. Woody Be Tuff
2001 sorrel (Nitas Wood - Tuffs Junie by Tuff Lena)
Offspring earnings: $111,101
9. Wimpyneedsacocktail
2007 buckskin (Wimpys Little Step - Seven S Mimosa by Hollywood Dun It)
Offspring earnings: $122,816
8. Lions Share of Fame
2004 sorrel (Dash Ta Fame - On A Bunny by On A High)
Offspring earnings: $124,735
7. Knight Robber
1994 sorrel (Zan Gold Jack - Prices Rondo Robin by Rondo Leo)
Offspring earnings: $126,072
6. High Brow Cat
1988 chestnut (High Brow Hickory - Smart Little Kitty by Smart Little Lena)
Offspring earnings: $139,498
5. Pepcid
1998 red roan (Peptoboonsmall - Brazos Lynx by Docs Lynx)
Breeder: Tommy Houston of Bluff Dale, Texas
Owners: Tongue River Ranch of Paducah, Texas
Offspring Earnings: $140,188
Money Earners: 8
Average Earnings: $17,524
No. 1 Money Earner: TRR Freckles Holidoc, 2016 bay gelding out of SR Pretty Playboy by Playboy Lena Bar, $56,296

4. Abrakadabracre
1998 dun (Bob Acre Dun - Willys Tivio Babe by Doc N Willy)
Breeder: Suzan Cardwell of Houston, Texas
Owners: Renato Rezende Barbosa of Mineral Wells, Texas
Offspring Earnings: $194,728
Money Earners: 1
Average Earnings: $194,728
No. 1 Money Earner: Kadabra King, 2010 dun gelding out of Quixote Jessie by Holidoc $194,728

3. Playgun
1992 gray (Freckles Playboy - Miss Silver Pistol by Docs Hickory)
Breeder: Wes Shahan of Pleasanton, Texas
Owners: Burnett Ranches, LLC of Guthrie, Texas
Offspring Earnings: $206,081
Money Earners: 5
Average Earnings: $41,216
No. 1 Money Earner: Sixes Posse, 2005 gray gelding out of Cedar Style by Mr Sun O Lena, $110,292
Son of Playgun on QStallions.com: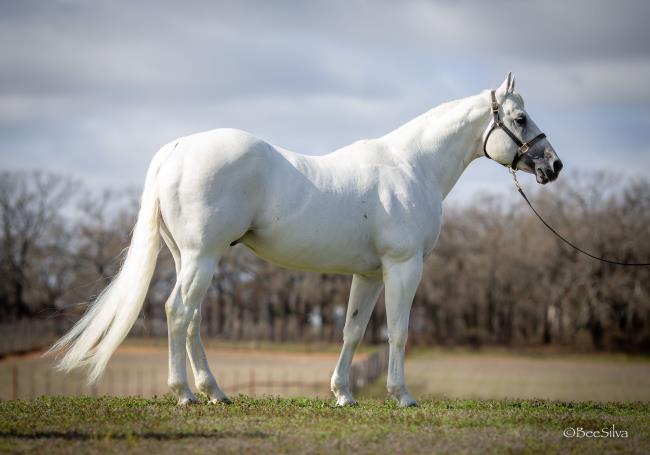 Fiestas Gotta Gun
(out of Firewater Fiesta by Firewater Flit)

2. Metallic Cat
2005 red roan (High Brow Cat - Chers Shadow by Peptoboonsmal)
Breeder: The Roan Rangers of Weatherford, Texas
Owner: Rocking P Ranch LLC of Fort Worth, Texas
Offspring Earnings: $290,976
Money Earners: 32
Average Earnings: $9,093
No. 1 Money Earner: Relentless Big Shot, 2017 chestnut gelding out of Z Oh Six by Popular Resortfigure, $44,529
Sons of Metallic Cat on QStallions.com:
>
Cats Picasso

(out of Playboys Vixen by Hickoryote)

Check Yer Metal

(out of Checkers Live Oak by Im Countin Checks )

Dandy Cat

(out of DMAC Dandy Devine by Smart Little Abner)

Dirty Fling

(out of Streak Of Gin by A Streak Of Fling )

Fiddle And Steel

(out of Lil Bit Reckless by CD Royal)

Gallactic Cat

(out of CDs Starlight Ms by CD Olena )

Hazardouz Material

(out of Scooters Daisy Dukes by Dual Smart Rey )

HQ Helluva Cat

(out of Bound To White Chex by Helluva Chex)

KR Fantallicka

(out of Fancy Zack by Zack T Wood)

Maggic Mike

(out of Sweet Abra by Abrakadabracre)

Metallic Cattack

(out of Quiolena by CD Olena)

Metallic Malice

(out of High Boon by Mecom Blue)

Metallic Masterpiece

(out of Kings Masterpiece by Peppy San Badger)

Metallic Rey Mink

(out of Dual Rey Mink by Dual Rey)

Metallic Spark

(out of Shiney Lil Miss by Shining Spark)

Metallics MVP

(out of My Lizzy Babe by Lizzys Gotta Player)

Pound Sign

(out of Dual Rey Tag by Dual Rey)

Red Hot Metal

(out of Spots Hot Shot by Spots Hot)

Sannman

(out of The Smart Look by Smart Little Lena)

Trumped U

(out of Lively Dual by Dual Rey)
1. Hickory Holly Time
2010 red roan (One Time Pepto - Hickorys Holly Cee by Docs Hickory)
Breeder: Arcese Quarter Horses USA of Weatherford, Texas
Owner: DT Horses LLC of Scottsdale, Arizona
Offspring Earnings: $328,948
Money Earners: 17
Average Earnings: $19,350
No. 1 Money Earner: DT Hickory Blu Steel, 2018 blue roan mare out of DT Sugar Chex Whiz by Shiners Lena Chex, $83,460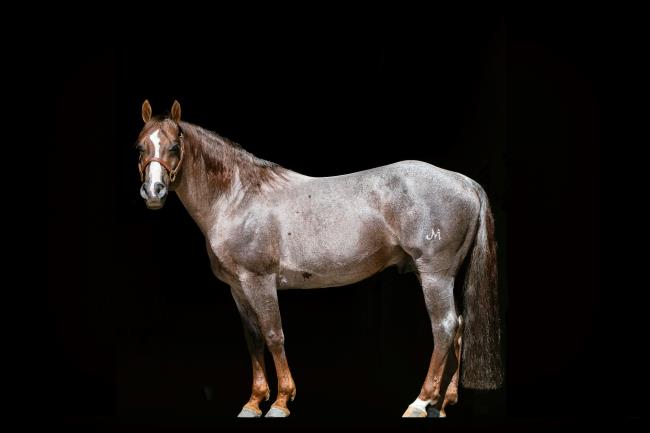 Hickory Holly Time
View the QData Money-Earners Leaderboards.
The free QData Leaderboards, from the QData Database, are updated weekly and include the top 50 Money-Earners, Sires, Dams, Grandsires, Owners and Breeders in 16 different event groups for both all-time and yearly leading.
Sortable columns allow you to see leaders by age and other filters. Plus, stallions subscribed to AQHA's partner service, QStallions.com, are highlighted on the leader lists and linked to their QStallions page when their names appear.
View more American Quarter Horse stallions at QStallions.com.
QStallions.com is a trusted source of data for both mare and stallion owners:
Stallion photos, videos, pedigrees and more, including catalog-style pedigree.
Earnings and performance records updated weekly for stallions and offspring.
Proven crosses feature to determine successful mare-stallion crosses.
Data is fully vetted before it's posted.
Easy and quick to access.
If you are interested in learning more about stallions near you, use the Stallion Locator to find stallions near you. Learn more about QStallions and how to list your stallion today!